I have more pictures that I did not reduce the size of. I'm sorry, I don't think I know how to do that. And I'm sorry I don't really have a real post. I started to write one, but it was snappy and vapid, and my mood is currently... tired. Since I am imprisoned in this city until my most hated enemy, the Foreign Affairs Office, allows me to leave, I am taking some classes. So doing my homework plus my research (all while procrastinating) is wearing me down, and I get very little sleep at night.
Complaining is stupid, though. Now farmers, farmers should complain. I don't see how they make any money. On the street fruit is sold for so little. I don't even bargain. Although I did accidentally bargain with someone in the Kunming dialect the other day. He told me the price of some fruit, and I thought he said 2 kuai/kg. I said, "OK, OK, 2 kuai," meaning that I wanted 1 kg worth. He sighed and said, "Fine, fine," and proceeded to give me much more than a kg. That is when I realized I accidentally told him to make it cheaper.
When it rains, things are even cheaper because of the bad business. After a little shower today, I bought half a papaya (papayas are HUGE) for 1 kuai. 7.89 kuai, for those of you that don't know, is equal to about 1 us dollar. My friend got a bagful of these green veggies (currently un-translatable) for the same price. 1 kuai!!! It's ridiculous!
Well, what can I do now except to continue to live my bourgeois life? Of course, I still have to do lower class things such as ... killing my own cockroaches. Cockroaches that I find in the bathroom feasting on their fellow dead cockroaches. And that run away when I try (weakly) to beat them with rolled up paper. I also have to do things like buy my own food which my cheap nature finds to be extremely reasonable to buy.
Anyway, here are some pictures. My chinese friend Wang wei (doesn't that have an incredible ring to it?) has a camera and is camera crazy. Here are some pictures we've taken this week.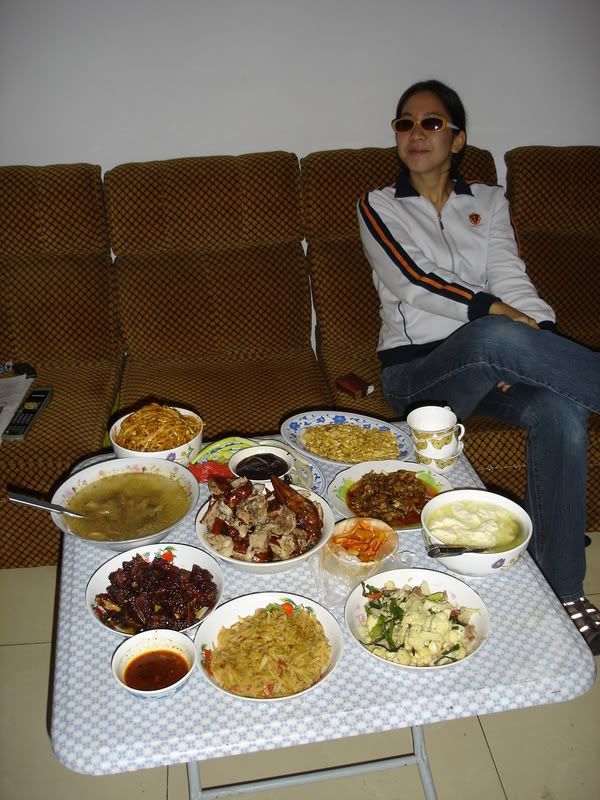 This is us being dorks. Those glasses are pretty cool though, right? Wang wei lives with four other younger people - his sister and cousin and their lovers. They eat together all the time. I basically live here as well, as I am always here and always eat here. In fact, I am here right now - I spent the day napping and then waking up and then hanging out on the computer (Wang wei, a bit of a computer genius, hooked us both up to the internet.) I'm not quite sure what the etiquette is for this situation. They don't really let me help, and so all I do is bring fruit over and take Wang wei out to dinner whenever I can.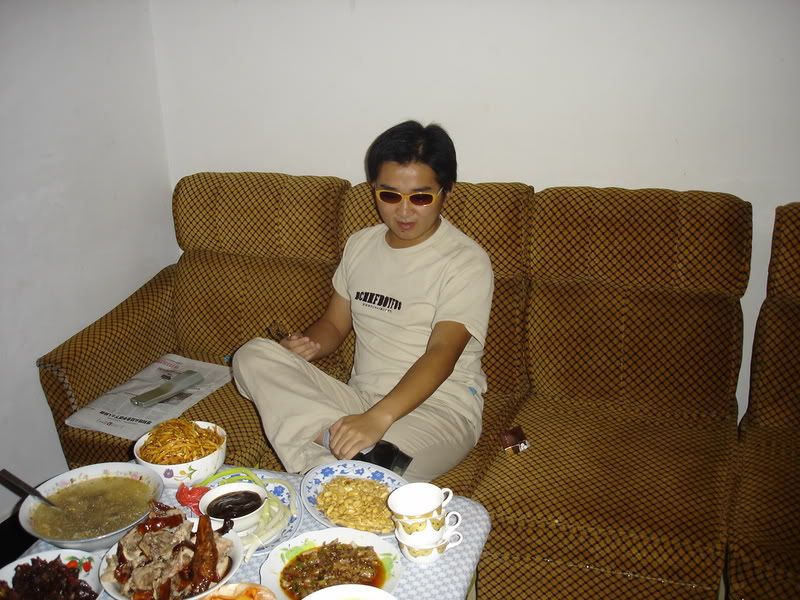 We also took lots of pictures of Wang wei in my glasses.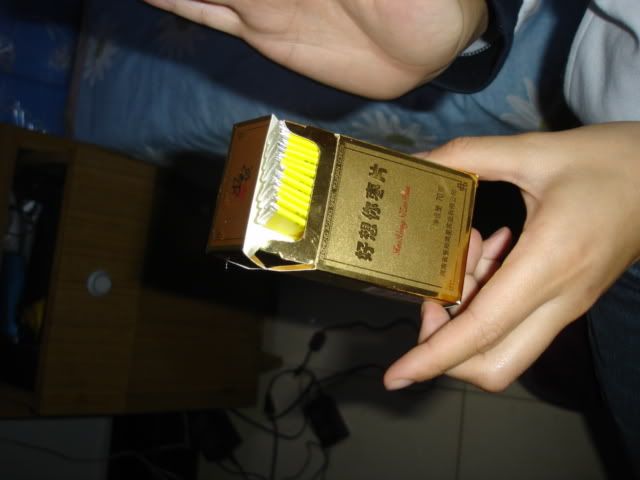 After this dinner, Wang wei asked me if I wanted a smoke. I said, "Uh, no." He said, "Come on!!" It turned out to be this dried fruit candy. Ha, ha. And yes, taking a picture of this was my idea.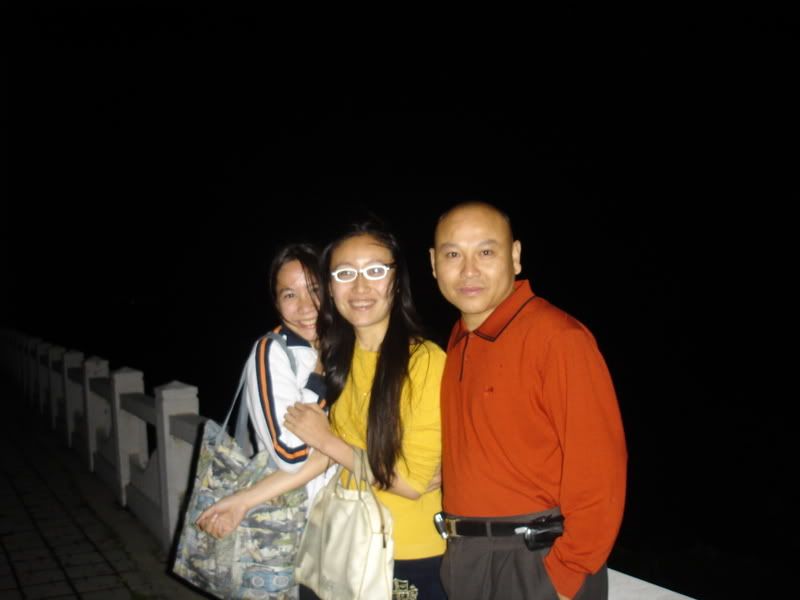 Last night, my friend Xialing, who was the assistant in our study abroad group, wanted to eat dinner with me. I invited Wang wei, and Xia ling's friend, a soldier in the Chinese army who also helps his lover run a yoga business, took us out. We went to dianci lake in Kunming, and ate beer-fried duck and had a lot of really good food, as well as interesting conversation. (It was mostly the soldier talking about politics, etc, and though I of course didn't understand all of it, I got the gist of some of the more juicy topics. He also asked me about America and American and Taiwanese views. He told me that Americans aren't really liked that much by a lot of Chinese people. But please, my blonde-haired, blue-eyed friends from Nebraska, please come visit me. I promise I won't try to sell you off on the black market for lots of money.) We also drove by rich houses, and the rather large villas of some Han villagers who have hit it big due to tourism. This is a picture us by the lake, although you can't really see it.
And us girls plus Wang wei! It was cool to introduce two of my good friends here to each other.
Well, I anticipate a lot more internet time for me from now on. I just got a cdma card, something which was, before I bought it, a foreign concept. It will let me access the internet even from rural areas, as long as I have a telephone signal. Apparently it costs about 50 dollars a month in the states, and for me for the year it cost 190 bucks. Pretty pretty pretty good.